Thursday, June 29, 2017
It's a cult.
A very strange yet oddly compelling cult.
Together
Together
Together
Alone
Apart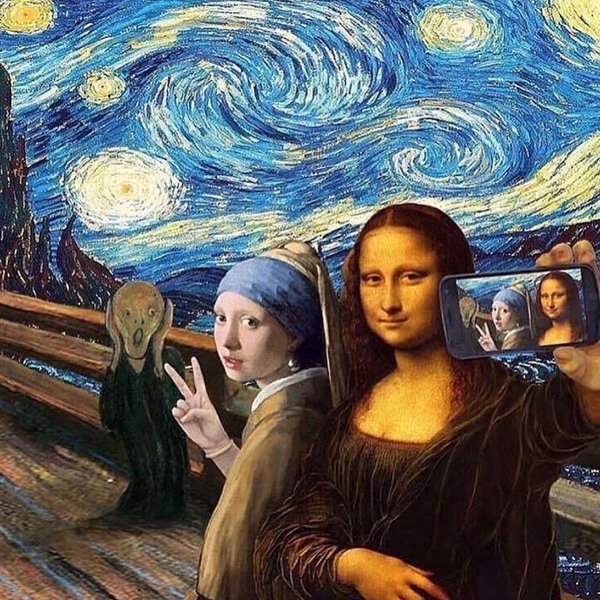 Bitch
Together, again
Wednesday, June 28, 2017
As said in our intro to last week's piece, "
Professor Damodaran on Uber
":
Not one of the good professor's most insightful blogposts but interesting because he puts the odds of Uber failing at only 5%.
And because you can feel his "I need numbers dammit" pain....
Here he schools me
with this 3000-level update
:
(that sounded arrogently snotty which was definitely not the intent)
Wednesday, June 28, 2017
User/Subscriber Economics: An Alternative View of Uber's Value
In the week since

I posted my Uber valuation

, I have received many suggestions on what I should have done differently in the valuation, with many of you arguing that I was being a over optimistic in my forecasts of total market, market share and margin improvements and some of you positing that I was too pessimistic. I don't claim to have any certitude about these numbers but the

spreadsheet that I used to value Uber

is an open one, and you are welcome to convert your suggestions into valuation inputs and make the valuation your own. In just the last few days, though, I have been watching an argument unfold among people that I respect. about whether the reason for my low valuation for Uber is that I am using a DCF model, with the critics making the case that valuing a company based upon its expected cash flows is an old economy framework that will not yield a reasonable estimate of value for new economy companies, driven less by infrastructure investments and returns on those investments, and more by user and subscriber economics. I have long argued that DCF models are much more flexible than most people give them credit for, and that they can be modified to reflect other frameworks. So, rather than deflect the criticism, I will try to build a user based model to value Uber and contrast with my conventional valuation.


Aggregated versus Disaggregated Valuation


If you are doing an intrinsic valuation, the principle that the value of a business is the present value of the expected cash flows from that business, with the discount rate adjusted for risk, cannot be contested. That is true for any business, manufacturing or service, small or large, old economy or new economy. Since that is what a discounted cash flow valuation is designed to do, I have to believe that what critics find objectionable in my Uber DCF model is not with the model itself but in how I estimated the cash flows for Uber, and adjusted for risk. I followed the aggregated model for discounted cash flow valuation where I estimated the cash flows to Uber as a company, starting with its revenues and working through the consolidated expenses and total reinvestment each year and discounted these cash flows at a cost of capital that I estimated for the entire company. Along the way, I had to make assumptions about a total market that Uber would go after, the market share that I expect the company to get in that market and the operating margins in steady state.

Disaggregated Valuation

Value is additive and you can value any company on a disaggregated basis, breaking it down into different divisions/businesses, geographical areas or by units:

Business Units: In a sum of the parts valuation (SOTP), you can break a multi-business company into its individual business units and value each unit separately. I have a paper where I describe the process of doing a SOTP valuation, using United Technologies, a conglomerate, as my example. If that SOTP valuation is much higher than the value that the market attaches to the company, you may very well find an activist investor targeting the company for a break up.
Geographical Groupings: When valuing a multinational, you can break the company's operations down geographically and value each geographical grouping (Asia, Latin America, North America, Europe) separately, not only using different assumptions about growth and risk in region but even different currencies for each region.
Unit-based Valuation: More generally, when valuing any company, you can try to value it on a unit-basis, building up to its value by valuing each unit separately and then aggregating across units. Thus, a pharmaceutical company can be valued by taking each of the drugs that are in its portfolio, including those in the pipeline, and valuing that drug based upon its cash flows and risk and then adding up the values across the entire portfolio. A retail business can be valued by valuing individual stores and adding up the store values and a subscription-based company can be valuing by valuing a subscription and multiplying by the number of subscriptions, current and forecasted.

I may be misreading the critics of my Uber valuation but it seems to me that some of them, at least are making the argument it is better to value Uber, by valuing an individual Uber user first, and then scaling the value up to reflect not just the number of users that Uber has today (existing users) but also new users it expects to add in the future.

Aggregated versus Disaggregated Valuations: Weighing the Trade offs

Valuation on a disaggregated basis allows you to be much more flexible in your assumptions, allowing them to vary across each grouping but there are four reasons why you seldom see them practiced (or at least practiced well) in company valuation.

Law of large numbers: As companies get larger and more diverse, there is an argument to be made that you are better off estimating on an aggregated basis rather than a disaggregated one. The reason is statistical. To the extent that your estimation errors on a unit basis are uncorrelated or lightly correlated, your estimates on an aggregated level will be more precise than the unit-based estimates. For example, you will have a much better chance of estimating the aggregate revenues for Pfizer correctly than you do of estimating the revenues of each of its dozens of drugs.
Information Vacuums: Information on a disaggregated basis is difficult to get for individual businesses, geographies, products or users, if you are an investor looking at a company from the outside. If you are doing your valuation from inside the company (as an owner or venture capitalist), you may be able to get this information, but as you will see with my Uber user valuation, even insiders will face limits.
Missing Value Pieces: When valuing a company on a disaggregated business, it is easy to overlook some items that are consequential for value. In sum of the parts valuation, for instance, analysts are so caught up in estimating the values of individual businesses that they sometimes forget to value "corporate costs", which can be a multi-billion drag on value.
Corporate Structure: There are some items that are easier to deal with at the aggregate level, because that is where they affect the business. Thus, you can model when taxes come due and the effect of losses easier when you are valuing an aggregated business than when you are valuing it on a disaggregated level. Similarly, if you are concerned about legal penalties or corporate governance, these are better addressed at the aggregated level.

It is true that aggregation comes with costs, starting with the blurring of differences across disaggregated units (business, geographies, products, users) as well as the missing of competitive advantages that apply only to some units of the business and not to others. It is also true that using an aggregated valuation can result in a process that is disconnected from how the owners and managers at user-based companies think about their companies and thus cannot help them in managing these companies or valuing them better....

MUCH MORE
Tuesday, June 27, 2017
Following up on our earlier "
Ahead of Tonight's Gerald Loeb Awards for Financial and Business Reporting...
". We'll have another post or two on Mr. Loeb later in the day.
From Investor's Business Daily, Dec. 23, 2016:
Gerald Loeb thrived in the securities business by adopting the ticker-tape machine, and his skill at tracking actionable price trends made him a reliable source of information to customers. (UCLA Anderson School of Management)
Across nearly five decades in the 20th century, Gerald M. Loeb prospered in the world of Wall Street. So what made Loeb really stand apart?

Perhaps it was Loeb's ability and desire to articulate exactly what it takes to win in the bond and stock markets. Loeb's gift to investors ultimately came in the form of a book, "The Battle for Investment Survival."

Loeb writes with brutal honesty.

"Nothing is more difficult, I truly believe, than consistently and fairly profiting in Wall Street," he wrote at the start of Chapter 1. "I know of nothing harder to learn. Schools and textbooks supply only a good theoretical background."

Most individuals lose money on Wall Street because they don't prepare thoroughly, Loeb noted, or they don't spend enough time finding a professional who has mastered the skill of market timing.
Loeb wanted people to take matters into their own hands. That is, don't be sold something on Wall Street. Do your own research and find something to buy.

Don't simply trust an AAA rating for a bond or a very high price in a stock, because those are just snapshots of a security's value in a moment of time. Instead, look for high-quality merchandise on the market with a true potential to rise in value.

"If you know what you want and why you want it and when you want it, you'll generally pay a lot less for it than you will if you buy something that somebody else persuades you to buy," Loeb, who eventually rose to the role of chairman of the Manhattan brokerage E.F. Hutton, was quoted as saying in "The Wizard of Wall Street" by Ralph Martin.

No Short Cuts
Through "The Battle for Investment Survival," Loeb tells readers to take no short cuts. Watch a stock carefully, understand its price behavior, and find correlations between its price cycles and how it relates to the company's underlying fundamentals. Be patient, wait for all the proverbial stars to align, then strike big.

Last, but not least, recognize your mistakes early and exit a losing position quickly.
How influential is "The Battle for Investment Survival" since it came out in 1935? So much so that the San Francisco native also oversaw 10 revised editions of his book over the next 30 years.

The book deeply moved William O'Neil, a successful broker during the 1960s who formed an equity research firm that has served hundreds of institutional investors. O'Neil, who later founded IBD in 1984, once met with Loeb (1899-1974) to ask if he always stuck with the rule of selling a stock if it fell 10% below the purchase price. Loeb replied that he much preferred to be out of such a position well before such a loss. Without question, the first job in stock investing is preserving capital.

"I think meeting Loeb made a big impact on Bill O'Neil," Bryan Anderson, market strategist at Austin-based Beck Capital Management, told IBD. Anderson also worked for William O'Neil + Co. as an in-house equities portfolio manager from 1993 to 2000. "Loeb had great personal qualities. He valued honesty. He valued flexibility of thinking and being unbiased. You see that throughout the book."

Other golden nuggets in Loeb's book that resonate with IBD's CAN SLIM investing paradigm:

Concentrate on your best investments. "Diversification is a necessity for the beginner. On the other hand, the really great fortunes were made by concentration," Loeb wrote in a foreword to the 1965 edition. "The greater your experience, the greater your capability for running risks, and the greater your ability to chart your course yourself, the less you need to diversify."

Take profits often; lock in gains frequently. "Many 'long-pull' traders ignore a sign of a change of trend because they feel it is temporary. Often they are right, but eventually they are wrong, and usually at great cost. The short-term method requires the closing of the trade for a reason, and if later the situation changes, then one can re-establish the position," Loeb wrote.

A stock can plunge even if the market is doing fine. In the postscript section of his book, Loeb notes that from 1960 to 1964, the Standard & Poor's average of 425 industrial stocks rose, but seven leading electronics companies within the average underperformed. Among those seven, Loeb added a simple line graph of Transitron Electronic falling from 60 to 4.63 over the same time frame, a 92% plunge.

Even within a single industry, performance among companies can vary greatly. Loeb showed how Chrysler emerged as a big market winner, rising from 11.50 in 1961 to 50 by 1964 as new management led to outstanding growth in car sales, earnings and cash dividends. But rival American Motors, "which had prospered mightily in the 1957-59 period, due to its success with compact cars, saw the demand shift and was adversely affected," Loeb wrote. From 1960 to 1964, AMC shares sank from a peak of 23.50 to 15.

Build your position as a stock rises in price, not falls. "I believe in pyramiding, not averaging," Loeb wrote.

Financially Responsible
Loeb was born in July 1899 in San Francisco. His father sold a successful wine merchandising business in New Orleans and moved to the West Coast to start anew. Loeb's mother came from a wealthy family in which Loeb's grandfather struck it big in silver in Nevada, then invested his winnings in real estate in the Bay Area.

The 1906 San Francisco earthquake all but shattered the family's wealth. Two years later, Loeb's father and grandfather died just two weeks apart. Loeb's mother, now widowed, moved into a boardinghouse to raise Loeb and his younger brother.

Loeb learned to take financial responsibility at an early age. When Loeb was just 10, his mother took them on a trip to Europe and let young Gerald handle the hiring of a taxi, paying the hotel bill and tipping waiters on the steam ship across the Atlantic.

"She always wanted me to be boss of my own money, even at the earliest age," Loeb said. "For me, this freedom of experience . . . was the beginning of my financial education."

At age 11, Loeb contracted polio. Forced to spend much of his days in bed, Loeb devoured books. The physical handicap did not prevent Loeb from finishing high school, but he quit a plan to study architecture.

An inheritance from his father sparked a lifelong passion in securities investing.

At age 21 and with $13,000 in hand (roughly $221,000 in today's dollars), Loeb made two bond investments. The first purchase, a 15-year S.W. Straus Real Estate bond that offered 6% interest, was illiquid and market prices were arbitrary. The stated value of the real estate tied to the loans was highly questionable. Loeb sensed something was amiss and redeemed the bond for a small loss within a year. Later, the bond crashed to zero value after the issuers no longer could offset the big losses with the money received from bond sales.

For his second purchase, he called upon his father's friend, a senior partner at a top brokerage in San Francisco, who recommended a high-quality British bond, payable either in sterling or dollars at the customer's option. Unlike the first bond, which paid a handsome commission to the seller, this bond gave the broker only $2.50 to $5 in commission. In the process, Loeb also learned how the broker sent the order to New York via telegraph, bought the bond on the floor, had the cashier ensure that it was authentic, and finally got it mailed to the new owner.

A year later, Loeb saw the value of the bond rise and took his profit. He decided that he would do business the same way by acting in the customer's best interest.

One day during his first job as a bond salesman, Loeb got a verbal lashing for refusing to follow bosses' orders to sell low-quality bonds to a physician client that would have given the broker the biggest commission. He quit the same day. Loeb immediately got a job at a respectable brokerage, learning every aspect of the business by assisting the bond salesman, the statistician and the stock trader.

Becoming A Reliable Source
Loeb thrived in the securities business by adopting the ticker-tape machine, a sophisticated new technology at the time. Loeb not only learned much about tracking actionable price trends, but also became a reliable source of information to his customers. Trust among his customers was so great that they gave him discretionary power to buy stocks without client approval, then allocate the shares to accounts accordingly.

"He was giving people honest information," Anderson said. "Others were giving customers old information."

To further promote knowledge about business and the markets, Loeb launched an annual competition in 1957 to recognize excellence in financial journalism. He cared about the impact it could have to the public understanding of financial markets. The University of Connecticut acted as the initial steward of the awards. But in 1973, just a year before his death, Loeb decided to ask Harold Williams, a corporate lawyer who served as dean of UCLA's business school at the time, to become the new home of the prizes.

Williams, who served as commissioner of the Securities & Exchange Commission, says Loeb was aware of his past speeches on the issues of corporate governance and the role of board directors. "He felt my views were hospitable," Williams told IBD....MORE